Muscle Cars - Street Rods - Race Cars
Driveshaft Specialist offers custom Aluminum Driveshafts for nearly every combination of Transmissions and Differential.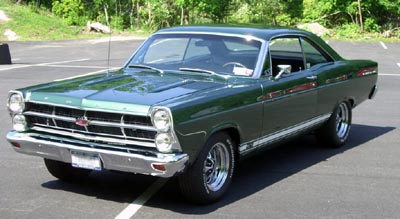 Aluminum Driveshafts offer lighter weight. On average we can remove 30% or more from the weight of a steel driveshaft. This results in less rotating mass in the driveshaft which can result in better performance.
The Aluminum Driveshaft also reduces un-sprung weight in the rear suspension. Aluminum Driveshafts offer better high speed stability from the Aluminum tube. Aluminum driveshaft tubes are typically thicker walls which offers the stability but with less total weight. This is very beneficial in Road Race cars where sustained Hi-RPM is experienced.
Aluminum Driveshafts do not corrode like a steel driveshaft. Aluminum Driveshafts will have a longer lifespan than a steel driveshaft. Combined with the Spicer XL U-Joint which has a lifespan typically over 100,000 miles it might be the last driveshaft you ever purchase.

The Spicer XL U-Joint is, in our opinion, the best U-Joint made. The Spicer XL U-Joint is a sealed maintenance free U-Joint. It will never sling grease all over the bottom on your car as a greaseable U-Joint will do. Plus you never have to get under the car and put grease in them. The Spicer XL is also the strongest U-Joint that we know of. We have never seen a Spicer XL with a broken cross or trunion. We very strongly recommend using this U-Joint. We offer these for sale if you would like to upgrade the U-Joints in your current driveshaft. Very Affordable.

Performer Aluminum Driveshaft Pricing
Call for assistance on choosing the right Aluminum Driveshaft for your application. For assistance on determining the correct length go to Measure Sheets.
Transmission Yoke is not included in our pricing. We price each driveshaft individually so you pay for exactly what you need.
Parts Warning: There are a lot of cheap offshore yokes flooding the market. If a shop has a great deal on driveshafts or transmission yokes, You had better ask what you are getting. Ask if it has "CAM" on it. This is a Chinese Auto Manufacturing product and you will get exactly what you paid for. Cheap Crappola!
Pricing is listed by U-Joint series then Aluminum driveshaft tube diameter. If you need any assistance on U-Joint sizes for your application, Please Call. We are here to assist and happy to help. We also have a U-Joint Identification Guide. Link listed below.
The outside lock up U-Joint fits GM, Ford, AMC and some Mopar vehicles.
U-Joint series available in 1310, 1330, 1350
3.0" diameter x .125 wall tube $295 to $345 (plus trans yoke)
3.5" diameter x .125 wall tube $325 to $355 (plus trans yoke)
4.0" diameter x .125 wall tube $415 to $415 (plus trans yoke)
Inside Lock U-Joints
GM 3RL series U-Joint
3.0" diameter x.125 = $345 (plus trans yoke)
3.5" diameter x.125 = $355 (plus trans yoke)
4.0" diameter x.125 = $415 (plus trans yoke)

The GM 3RL (S44) has been used on GM vehicles extensively since the late 1950's. If you do not see snap rings on the outside of the U-Joint caps and/or you do not have tabs on the pinion yoke, You have the 3RL U-joint. In Aluminum 3RL driveshafts we build with a GM regular production 1330/3RL size U-Joint in the Spicer XL U-Joint family.
Dodge - Chrysler - Plymouth 7260-7290-1350
We have the 7260 (small Dodge) and the 7290 (big Dodge) U-Joints to make Aluminum Shafts.
We also have new 26 spline 904 and 30 spline 727 and 4 Speed A833 Transmission Yokes available.
We use the Spicer XL cold forged premium U-Joints in all applications possible.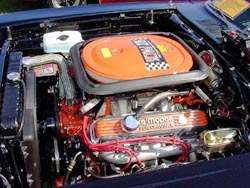 This mint 1969 Super Bee with 440-6 Pack is our friend Bud Weaver from California.
We offer 3.0 and 3.5 Diameter Aluminum Driveshafts.
Typical Pricing with a new Transmission Yoke for a 3.5 x.125 Aluminum shaft would be in the $419 range + shipping.
Please call for assistance on picking the right Aluminum Driveshaft for your application. We offer free Tech Support at 1.866.455.6622.