The Nitro Series Driveshaft is our Race Ready Heavy Duty Steel Driveshaft.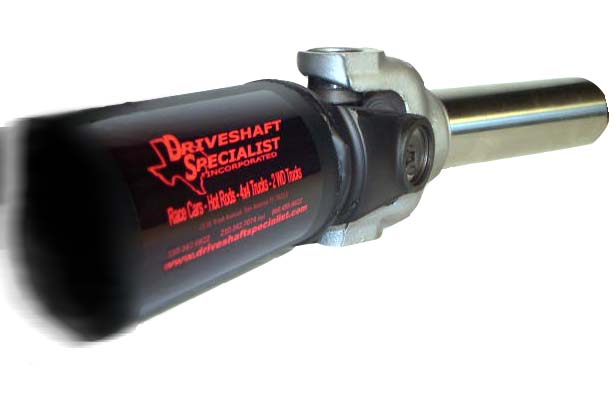 The Nitro Driveshaft is made with special DOM heat treated Hi - Strength Steel. This driveshaft is only available in 3.0x.083 and 3.5x.065 or 3.5x.083 tubes. The U-Joint series are 1350 and 1410 only.
This is the Spicer XL U-Joint. We believe this to be the best quality U-Joint available. It is made with very high quality steel alloys. We have these in cars running in excess of 2000 HP and we are not aware of one ever breaking. If you already have a Hi-Performance Driveshaft and are running any U-Joint bought from an auto parts store, I would strongly suggest changing to the Spicer XL U-Joints. Pricing is quite reasonable and typically only about $10 more than a parts store U-Joint 1350 series U-Joint = 3.622 wide and 1.188 cap. (3 -5/8 x 1 -3/16)
1410 series U-Joint = 4.188 wide and 1.188 cap. (4 -3/16 x 1 -3/16) Click here for for U-Joint series Identification.
Transmission Yokes are not included in the pricing.
See Transmission Yokes for Pricing.
1350 Series
3.0" x .083 is $385 + Trans Yoke
3.5" x .065 is $400 + Trans Yoke
3.5" x .083 is $415 + Trans Yoke
1410 Series is available. Call for specific pricing.
All Nitro Series Driveshafts are assembled with extreme attention to detail. Our welds are are 1st class. This also applies to every driveshaft we build. The special DOM-I-NATOR tube we use is a specially made seamless driveshaft tube design for added strength. It is then run thru a die and mandrel to assure ultimate straightness. Then the driveshaft tube goes thru a heat treat process to add additional strength. This is our best driveshaft tube and strongest driveshaft assembly. Combined with the Spicer XL U-Joint and Hi-Performance Transmission yokes this driveshaft will support well over 2000 Horse Power in Drag Race applications.
Hi Speed Electronic Balancing:
We use a Stewart Warner electronic balancing machine with about $30k IN UPGRADES. We spin all driveshafts at hi rpm to make sure it as smooth as possible. We typically can get the balance less than 1/15 of 1 ounce or within 2 grams. We will spin the driveshaft at maximum RPM. Dependent on tube diameter this will be 5000 to 6000 RPM with the machine set on #1 sensitivity. This will take most cars to well over 200 mph.
Driveshaft length is critical on all driveshafts but even more so on extreme Hi Performance applications. We will want to know rear suspension set up to determine slip travel. We want to keep as much transmission yoke inserted in the transmission as possible. More of the transmission yoke barrel inserted in the transmission adds hi speed stability to the driveshaft at high RPM.
We would sincerely appreciate the opportunity to build a Nitro Series Driveshaft for you. I promise that our workmanship is first class. I offer a 100% money back warranty on the driveshaft if you are not extremely pleased with our quality and workmanship. While I do not think ths has happened, we do not cover shipping Brent Crownover - President