Chevy and GMC Trucks
This page is for any special fitment driveshafts not listed on the Truck Master page. Driveshafts will be fully assembled, Hi-Speed Balanced and Painted.
Diesel Power Magazine Article
Chevy-GMC 2500/3500 HD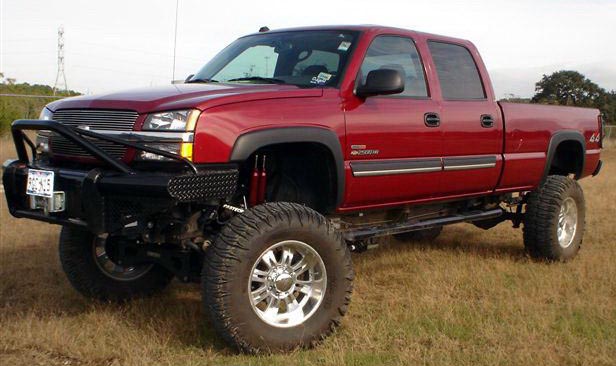 We have the BIG 5.0 x.125 Aluminum Driveshafts for a Heavy Duty OE Aluminum Replacement or Converting 2 piece Driveshafts to 1 pc Aluminum.

We can build a New 1 Piece Aluminum Driveshaft for most 4x4 and some 2WD even if originally equipped with a 2pc steel shaft. There are some length limitations though. Maximum center to center is approx. 86 inches.
There have been numerous complaints of shudders and vibrations on these trucks. The 1 pc Aluminum has solved the problems.
Pricing will vary with engine/trans/diff combinations but a typical price with a new Trans yoke in 1410 series UJ is $755 range plus shipping in the $80-95 range.
Some GMC and Chevy Trucks use a larger 1480 UJ and these driveshafts run $825 + shipping.
Aluminum Tube Torque Yield Specs:
This is what the actual tube will take before failure. There are other factors involved in determining total driveshaft strength, such as Trans Yoke, Flanges, U-Joints and Welds.
Our .125 Wall Tube is much stronger than any factory tube.
7303 lb ft. is what our 5.0x125 HD 6061T6 heat treated tube is rated.
4974 is what the strongest Factory OE tube is rated.
3938 is what the worst OE tube is rated.
We have a Dodge Cummins Truck making 1396 HP and 2462 Torque using our HD 5.0 x .125 Aluminum Shaft.
Weight Savings - Going from a OE steel 1 pc shaft you will save nearly 20 pounds. If going from a 2pc OE shaft you can save 35+ pounds.
Auto Trac Driveshafts
Driveshaft Specialist offers both stock type Auto Trac front driveshafts and Constant Velocity type front driveshafts.
$325 to $355 is typical pricing plus shipping. Shown below is the the OE type Auto Trac driveshaft. Original Equipment tube diameters are typically 2.0" and 3.0". Custom sizes are also available to help clear exhaust modifications.

$545 plus shipping. Shown below is the CV (constant velocity) type driveshaft. The CV type shaft is recommended on lifted vehicles where NVH (noise-vibration-harshness) is a problem. Shown is the 3.0" diameter. We also offer this in the smaller 2.0" tube to fit lifted trucks and/or custom exhaust modifications. Call for specific measuring instructions.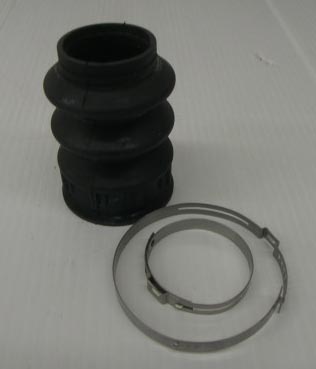 Auto Trac Boot seal is also available.
$12 plus shipping for CV Boot.
$19.37 plus shipping for OE type boot.
CV-5 Slip Yoke type Constant Velocity Driveshaft
Driveshaft Specialist offers custom made CV type driveshafts for use in slip yoke style Transfer Cases. $665 plus shipping.
For GMC and Chevy this will fit all 32 spline transfer cases. This is a great problem solver on lifted trucks where the transfer case U-Joint angle is to great and causes vibrations. The CV effectively double the working angle of a single U-Joint and results in a smooth driveline.
Tube diameters of 2.75" 3.0" and 3.5" available. 4.0 available at and additional cost.

Note: While this CV Driveshaft is great for reducing driveline vibration, it is still critical that pinion angle is set correctly. Call or send photos of your application and we will be happy to assist with pinion angle suggestions. This CV-5 driveshaft has a greaseable CV center bearing. Regular maintenance program of greasing the internal needle CV bearing is highly recommended. Driveshaft does not have to be disassembled. It might have to be removed though.
Most of the other type driveshafts for Chevy and GMC are listed on the Master Truck Driveshaft page. Please call if you have any questions or specific needs not listed. 1.866.455.6622