Jeep Driveshafts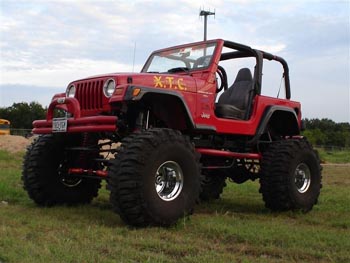 This page is for Jeep Specific Driveshafts not found on the Master Truck Driveshaft page.
We have many new listings for late model Jeeps.
Wranglers JK - TJ
Grand Cherokee - Late model
Commanders
Liberty
Please Call/Email for specific fitment and pricing information
Jeep JK Driveshafts - Heavy Duty
All driveshafts built to custom lengths as need - No extra charges. All hardware included
Jeep JK front Driveshaft. We offer new Conversion Universal Joint type CV driveshafts for the front. This includes a new Transfer Case bolt on CV end yoke and retains the flat type flange mounting at the front differential. New Front 1310 CV Driveshaft is $495 plus shipping. It includes the front flange (not shown)
OE JK Rear Driveshaft - We offer a new U-Joint type CV Driveshaft for the rear.
Jeep JK Rear 1310 U-Joint CV Driveshaft. This comes complete with all mounting hardware.
2Door shaft is $495 + ship.
4Door shaft is $595+ ship.
If running BIG TIRES we do have 1350 1 ton rated driveshafts availble for front and rear. These HD shafts are $690 + ship. This is for either front or rear and comes complete with all hardware needed for install. Call for details.
Installation Note: There is a large rubber O-Ring on the OE yoke flange for the transfer case. This MUST be removed and installed on the new yoke or you will have a leak at the transfer case.
Jeep TJ Rubicon
1350 Series 1 ton rated Rear CV Driveshaft for the Jeep Rubicon. Custom built to length. Pricing is $495 plus shipping.
Front shafts are available in custom lengths for lifted or stock trucks. Pricing is typically $445 +ship.
Older Jeep Grand Cherokee with Quadra Trac
There are 3 different versions used on the AWD Grand Cherokee and some year model overlap. We offer U-Joint Constant Velocity driveshafts which are far stronger than the OE set up on the later model Grand Cherokee's. All driveshafts are guaranteed to fit and work perfectly on stock height vehicles. We do not recommend installing lift kits on Grand Cherokee because the front driveshaft is always spinning. With to much angle on the OE shaft or one we provide driveshaft there is a good chance of vibration. The OE shaft will not last long on a lifted vehicle either. We do NOT Guarantee our driveshaft to run perfectly smooth on lifted Grand Cherokee's.
Type 1:
Up to 1995 (approx.) the all UJ CV-1 type driveshaft was used. Pricing is $380+shipping. Use M1-3 in the Measure Sheet section to determine correct length.
Type 2:
From 95 to 99 (approx.) the driveshaft was a U-Joint type CV at Transfer Case and a GKN type CV at the front differential. This is Dealer Only item - not available from us.

We offer a front conversion CV Driveshaft that uses a U-Joint at the front differential. This requires a new front pinion yoke (included) and a bolt/strap kit (included) to attach the U-Joint to new pinion yoke. This is very easy to change out. Installation instruction at the end of Type 3. Pricing is $425 plus shipping of $45-65 max. Use M1-8 in the Measure Sheet section to determine correct length. We need this length check because there are several version used.
Type 3:
From 99 and up (approx.) the grand Cherokee driveshaft was an enclosed GKN type CV joints on both ends. We do NOT offer this type of OE driveshaft.
We do offer a U-Joint type conversion driveshaft. This kit comes complete with a new yoke for the Transfer Case and a new pinion yoke for the front differential. All mounting hardware is included. Pricing is $495 plus shipping of $45-65 max. Use M1-9 in the Measure Sheet section for length check. We need this length check because of several variations of driveshafts used.
Installation Instructions for Type 2 and Type 3:
While it might initially seem a bit difficult to install these driveshafts, it is quite simple. Do NOT move vehicle while installing front pinion yoke. Front pinion yoke-remove nut holding existing pinion type flange, pull of flange and slide new pinion yoke on. Tighten to 225 lb ft or more. This is a shim type differential (no crush sleeve) so get it on tight. Air tools make quick work of this. Transfer Case-Remove nut holding flange on T-Case and remove. Re-install new TC yoke supplied and tighten securely. Install driveshaft with supplied hardware.
Older Jeeps - we have all types. Call for details
In addition to all of the driveshaft types on the Truck Master Driveshaft page we have the 1.25" diameter driveshafts in single U-joint at each end as well as the CV type driveshaft 1310 CV is $329 1310 single UJ is $259 (not shown) Both are plus shipping
Please call if you have any questions or need assistance.