DODGE RAM
TRUCK DRIVESHAFTS
DODGE RAM 2500/3500 Driveshafts
We have the BIG 5.0 x.125 Aluminum Driveshafts for a Heavy Duty Aluminum Replacement or Converting 2 piece Driveshafts to 1 pc Aluminum.
We can do these for all Ram 4x4 trucks, Quad cab, Crew cab in long or short bed. Mega cab short bed configurations. Lifted trucks? - NO Problem and NO extra charge, Happy to do it for you! 2WD - We can do some but it depends on length - please call.
Note: These are NOT OE driveshafts that are modified to fit. These are 100% new and built to order with Heavy Duty Alcoa USA made Aluminum Tubes. We use brand new Transfer Case slip yokes and Flange at the diff end. We use Spicer XL Cold Forged Extreme Duty U-joints. No take off/used parts are ever used. No corners are ever cut building these driveshafts.

Note - The little 3.0 tube is shown for comparison and NOT suitable for any truck application.
1410 Series is $795 w/34 Spline Trans Yoke and Flange + ship
1480 Series is $895 w/34 Spline Trans Yoke and Flange + ship
1550 Series is $1145 w/34 Spline Trans yoke and Flange + ship
Shipping in the $95 to $105 + range dependent on location. Some late model 169wb trucks can run an additional $125-150 due to additional handling by UPS. We spend extra $$ and time to double package these driveshafts to make sure they arrive in perfect condition. If there is an issue with driveshaft on arrival, we take care of you 1st, then we deal with claims on the carrier. You will be taken care of promptly. Promise!
On 2003 and up with 4-bolt flange at the differential we can upgrade from 1410 to 1480 as a direct bolt in as the flange bolt pattern is the same. The 1480 is substantially stronger. It is also a longer lasting UJ as the trunnions are larger, more needle bearing and larger UJ caps.
If you are not totally pleased with our quality and workmanship and/or the way your truck drives with our HD 5.0 Aluminum shaft we will Buy It Back.
Here is the fine print on that program. You can not drive on it for 6 months or a year. You need to let us know really quick that you are not happy or there is a problem with the driveshaft. We will try to make you happy. We are nice people to work with. The only other thing is we ask you to pay shpping for the return. Is that Reasonable? How many checks have I written to Dodge owners? ZERO!
If there is a problem with damage from shipping or any mistake that we made - we will pay shipping both ways or what ever it takes to get the situation resolved. Promptly!
Please call us - I promise that we will take excellent care of you with professional service and the absolute best 5.0 Aluminum driveshaft you can buy. Brent Crownover - Owner
Pricing Note: We are well aware there are less expensive driveshaft options available. We looked at these cheaper driveshafts and there are distinct differences that we will not do just for a bargain price. Differences as follows:
**Weld Yokes are a lighter duty design with a thinner butt end where the weld meets the tube. It does not matter how good the weld is if the material is much thinner right under weld. This will be the failure point. Have your favorite tow truck operators number handy.
**Tubes - we see some shafts advertised as HD.125 tube thickness but we can see the part number on the tube and it is actually .083 tube with a much lower strength rating.

** U-Joints they use are a solid cross design but not Spicer XL Extreme Duty-Extreme Life Cold Forged solid cross joint which is a premium short line of UJ from Spicer. We feel there is not a better U-joint available on the planet. We did use a non Spicer XL UJ for a short period of time. We had a torqued up diesel break 3 of them. We have used Spicer XL from that time forward and we have never had any XL break - not ever, and they last a long time.
**Chinese Parts - we do not use any cheap Chinese parts in any of our Dodge shafts. We do not install used or "reconditioned" parts. Everything is 100% new.
Bottom Line:
We could build a lower quality cheapo driveshaft. No problem! BUT - Keep in mind that All the power your diesel can generate has to transmit thru that driveshaft. Any driveshaft failure can put you on the side of the road. Is That Worth $50-75? What if you damage a fuel tank, fuel lines or exhaust system. What would replacing those components cost? Pay now or Pay later is the old saying I remember.
Note: The longer wheelbase trucks and 1 pc HD 5.0 Aluminum shafts can have a speed limit, dependent on length this can be around 100mph range. If you drive faster than 100 mph this may not be the correct shaft for you. Please call and discuss this as we want you to know the details. The short wheelbase trucks are good to 135+
How to Measure:
We are nitpickers and proud of it. We have very few problems. We like to make sure we make the 5.0 HD Alum to fit your truck Exactly. Click here for Measure Diagram for 2003 and up. For 2003 and up, all we need is the length check (nothing else). I am 99% sure we have your length on file but we just want to be 100% sure we build it right. Lifted trucks absolutely MUST be measured. Here a couple of photos of the measure points. Click to enlarge. It is very easy. Remember to go in a straight line from transfer case to diff (do not follow the old 2pc shaft)
The photos below show the measure points for 2003 and up and that is all we want to confirm. Lifted trucks must be checked. If we build it - we want it to fit perfectly.
The driveshaft does not have to be removed to do this.
For 2002 and earlier please use M1-1 in the 1pc measure diagrams. We also need the spline count or barrel diameter (where seal rides)
31 spline is 2.200 where the seal rides on yoke.
32 spline is 1.885.
Note transfer case is same measure point as photo above, but to center of UJ cap at differential end.
WILL The BIG 5.0 TAKE The POWER?
This is a friend of our shop (Rich at former Doghouse Diesel) with his Dodge 2500 that is making some serious power with 800+ Horsepower and 1500+ Torque!
Side Note - we built all the 5.0 HD Alum shafts for Doghouse Diesel in the last 2-3 years before the company closed.
The photo below is an engine view.
Click on image for a larger view.
Power Update: The most we know running thru our 1480 5.0 shaft is 1396HP and 2462TQ. This bothers us just a little as we know that someone is going to build something to break our driveshaft. Knock on wood! It has not happened yet.
Aluminum Tube Torque Yield Specs:
This is what the actual tube will take before failure. There are other factors involved in determining total driveshaft strength, such as Trans Yoke, Flanges, U-Joints and Welds.
7303 lb ft. is what our 5.0x125 HD 6061 T6 tube is rated.
4974 is what the strongest Factory OE .083 tube is rated.
3938 is what the worst OE .065 tube is rated.
Weight Savings - Going from a OE steel 1 pc shaft you will save nearly 20 pounds. If going from a 2pc OE shaft you can save 35+ pounds.
U-JOINTS for 2500/3500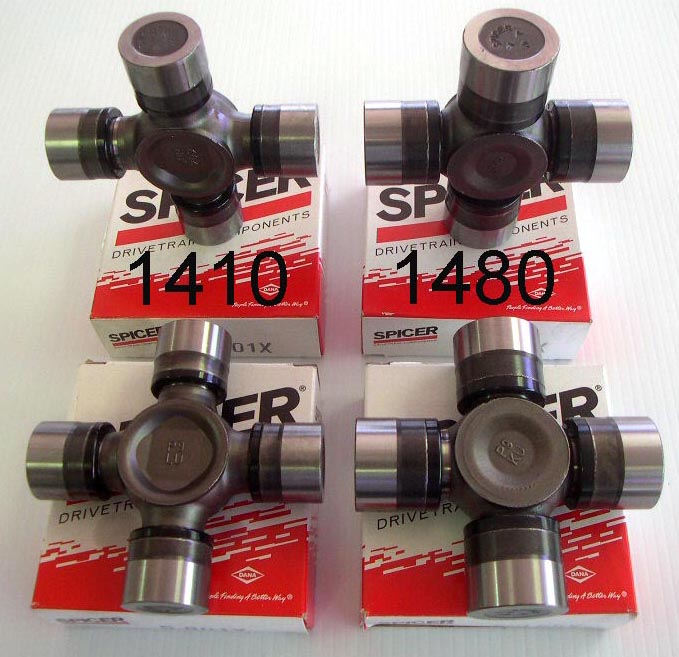 We use the Spicer XL in all of our applications.
This is a Cold Forged Etreme Duty-Extreme Lift U-Joint with superior steel alloy. All auto parts store U-Joints are a hot forged joint and are far below the quality level of the Spicer XL U-Joint. The Spicer XL is a solid cross and is a lubed for life U-Joint that typically lasts well over 100,000 miles with absolutely no maintenance required. 200,000+ is not uncommon for this U-joint. On the 1480 UJ we have had reports of over 370,000 miles. We have NEVER seen this U-Joint broken in half like the parts store joints and some U-joints that driveshaft shops use. We DO NOT EVER recommend putting a greasable UJ behind diesel power. They will not handle the torque and we have seen many failures.
Customer Comments for 1pc Aluminum (Unedited) and there are many more in the testimonial section.
Just wanted to thank you all for the excellent craftsmanship on my new driveline for my 06 dodge. It fit perfect right out of the package! Now my truck has no more shudder on takeoff and no vibration at all going 70 down the highway. Thanks again!! Will recommend your shop to anyone!!
Doug M 2006 Dodge 2500 QC long bed Cummins

Hey Brent,
I want to thank you again for getting me the driveshaft so quick. I installed it Wednesday and drove to west Texas Thursday. My truck is so much better, no driveline jerk or chatter or vibrations. This shaft is the only way to go. I should have done it along time ago. Thanks
Samuel B.
Drilling Consultant
Hi Jeff & Brent (and others),After speaking to Jeff on the phone, I Brought my Ram 3500 Dually in on Wednesday for a solution to a drivetrain vibration in the 70 mph range. Got a call back on Thursday late afternoon with diagnosis and recommendation and pricing for new single piece rear aluminum driveshaft and a rebuild of the front shaft as well. Picked up truck with repairs completed on Friday as promised. Vibration gone! They not only rebuilt the front driveshaft, they rebalanced it as well. Truck never drove so well. Problems disappeared that I didn't even know I had. Great work. Great people. Go nowhere else for driveshaft work. This is the place!! Thanks for a job well done,
Dick G.

Gentlemen,
I ordered the big 1480 series aluminum driveshaft to replace the stock 2-piece on my lifted 2004 Dodge Ram 2500 4x4 quad-cab long bed diesel, to hopefully resolve an annoying vibration between 47 and 54 mph. I placed the order on Friday, and it was delivered (and installed) the following Wednesday. The vibration is GONE! I can't thank you enough for the quality craftsmanship that was immediately evident, even as I began to tear into the packaging like a kid at Christmas. Professionalism seems to be a lost practice in our society today, and what a breath of fresh air it was to do business with you. Every part of the transaction went smoothly, from navigating the website, to speaking with Jeff on at least three separate occasions, and finally with the installation itself. I want to express my appreciation to Driveshaft Specialists and offer my recommendation to anyone who may be considering doing business with you. I have attached a picture of my truck, feel free to share! Thanks again!!
Sincerely,
Matt W. Lafayette, TN
Dodge 1500 4x4 Driveshafts
We offer all of the regular front Dodge Truck Driveshafts. See the CV Type Driveshafts in the Master Truck page.
The following is one of the "Odd Type" driveshafts that Dodge used. We have a special conversion driveshaft that is for lifted trucks or if you're looking for a Heavy Duty option.

Shown at right is a OE style front driveshaft for Dodge 1500 trucks. This is a poor design that Mercedes got involved with. Driveshaft is weak and on lifted trucks it will fail in short order.
Shown below is a Heavy Duty Driveshaft. This is a new design driveshaft that is stronger the the OE driveshaft and we can custom make the length for lifted trucks. Pricing is $475 + shipping.

Note: This may work on some Durango models with NV 244 Transfer Case.
If the Durango front shaft looks like this photo we do not have any options. Dealer only part.
Other Dodge Front CV Driveshafts.
Note: All Driveshafts come fully assembled, painted and Hi-Speed Balanced!
CV-1 Bolt on CV and single U-Joint.
CV-1 driveshafts are used in front and rear applications. Tube diameters from 1.25", 2.0", 2.5", 3.0" and 3.5" & 4". Pricing ranges from $289 to 435. These driveshafts are typically built with HD Greaseable U-Joints. Use M1-3 in the Measure Sheet section to determine length.
CV-2 Bolt on CV and Flat Flange.
CV-2 driveshafts are used in front and rear applications. Tube diameters from 2.0", 2.5", 3.0" and 3.5" & 4". Pricing ranges from $289 to $435 plus the flange. Flange pricing of $25 to $45 on average-some are more. These driveshafts are typically built with HD Greaseable U-Joint. Use M1-6 in the Measure Sheet section.
CV-3 Flat Flange CV and single U-Joint
CV-3 Flat Flange type CV are used in front and rear applications. Tube diameters from 2.0", 2.5", 3.0" and 3.5" & 4". Pricing ranges from $299 to $525. These shafts are typically built with HD Greaseable U-Joints. Use M1-6 in the Measure Sheet section.
CV-4 Flange Type CV and Flat Flange.
Same as CV-3 but with an added flange. Typical flange pricing in the $25-45 range with some larger series up to $75 more. This price added to CV-3 pricing. These shafts are typically built with HD Greaseable U-Joints. Use M1-7 in the Measure Sheet section.
Call for exact price and fitment information. Thanks!
Dodge 1500 and 2500 4x4 Rear Slip Yoke CV Type Driveshafts for Lifted Trucks.

This is for 1 piece driveshafts typically found on short wheelbase trucks. Pricing is $545 for regular pinion yoke at differential. Add $45 for flange at differential.
Use M1-1 if regular pinion yoke on differential or M1-4 if flat flange at differential.
Most of the other Dodge shafts are located on the Truck Master page. If you need assistance please call toll free 1.866.455.6622
We are happy to assist in any way possible.
Please call us-We want your Business!